When a Peace Valley volunteer broadcast a call for a counter-protest at Victoria's Earth Day festival, I had to find out why. Here's my report.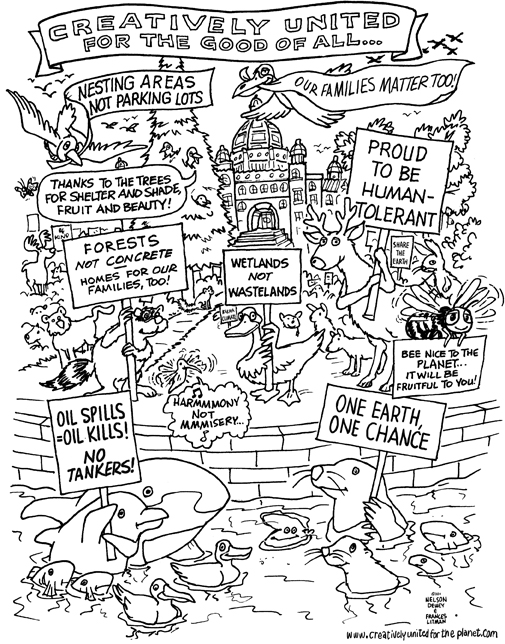 Victoria photographer Frances Litman had a vision: A weekend-long Earth Day festival. Not a protest, not a rally, she tells me – a "celebration" with happy people, environmental groups, vendors, and musicians coming together for the planet.
Litman set up a non-profit group, and in 2012 she and her crew hosted the first annual Creatively United for the Planet (CUP) festival in Oak Bay, a suburb of Victoria BC. The fest was a success, with only a small glitch – some events were scheduled for the same day and time as Victoria's Earth Walk, then in its 31st year. But that was worked out; the schedules were re-jigged to minimize overlap and reduce wear and tear on eco-groups trying to divide their volunteer time between two venues.
In 2012, Earth Walk was suffering for lack of volunteers and running on a shoestring budget. Every year, on the Saturday before Earth Day, Earth Walk drew almost a thousand people (five thousand in its heyday) to celebrate with environmental groups, vendors and musicians. Like CUP, organizers wanted a festival, not a protest. And so it was for three decades.
This year, the Earth Walk volunteers have packed it in. They folded up their tent, and Earth Walk will join the better-organized and -funded CUP. No rally at the BC Legislature is planned. This time, the walk starts from Centennial Square at noon Saturday April 20 and ends at St. Ann's Academy, where the CUP festival takes place.
CUP gets part of its funding from big-name sponsors like the Bank of Montreal and BC Hydro. The power company's sponsorship sparked the second glitch.
The Peace Valley Environment Association has waged a long-running campaign against BC Hydro and its controller, the government of BC. So far, they're winning – pickets and petitions have prevented the massive Site C Dam power project from breaking ground in the Peace region of northeast BC.
Earlier this year, CUP told PVEA it was not welcome at the festival. Litman says this was a misunderstanding. When a PVEA volunteer criticized the BC Hydro $2500 sponsorship, saying CUP "sold out," Litman says she replied, "If you feel that way, then maybe you shouldn't come."
Andrea Morrison, coordinator of PVEA, disputes that account. She says BC Hydro was calling the shots. "They looked at the list [of CUP participating groups] and saw PVEA and said, 'We would give you the money, if they're not allowed to participate.'"
Litman says other groups advised her to "take the money and run."
"We needed the money but I was torn about the source. We said to Hydro 'Look, we don't support what you're doing [at Site C and elsewhere], we're not happy.'" On the other hand, Litman likes the PowerSmart program, which she says "at least makes people think about the environment and sustainability."
Either way, Morrison and Litman agree the issue is resolved, at the cost of a few ruffled feathers. PVEA will have a table, as it did last year. Litman emphasizes again that there will be "no rallies" and "no protests" at CUP. "This is a friendly event. We don't want angry people. We're celebrating. It's through positivity that we're making change."
The CUP organizer says she was caught off guard by criticism over the way the issue was handled, and she has some choice words for other environmentalists. "What's this – attacking people without going to the source?" she complained. "I thought the environmental movement was my community."
"This festival is my vision," Litman says. "If other people don't like it, well, I'm sorry. You're not doing the work."
"We need people to show up and not be pointing fingers," Litman says. "People don't want to see in-fighting."
That kerfuffle is settled, but more questions have been raised about lack of diversity. Specifically, a lack of indigenous people. There are no Turtle Island natives or even any mention of First Nations on the schedule.
Litman says she is arranging for a blessing from a local Elder. But some indigenous activists may not be satisfied with what they consider "token" representation in the midst of a burgeoning indigenous arts and culture scene on Vancouver Island.
Oddly, CUP is listed as an event on the Idle No More official events website. Litman can't say how the event came to be there, but says she will ask one of the board members.
"While we support them [Idle No More] this festival is not the right time or place," Litman says. She wants me to get the message out that "we welcome everyone in peace and this is not a protest."
Mainstream environmental groups have plenty of baggage when it comes to disrespecting indigenous people and perpetuating neo-colonial attitudes. Earth Walk, for example, put little effort into partnering with indigenous people before 2012. Greenpeace has earned the enmity of indigenous groups it "sold out" with the Great Bear Rainforest compromise. There are dozens more examples.
Litman says if we want a vibrant environmental movement, we need to roll up our sleeves and make it happen. I agree. If we want a grassroots, independently-funded, fully inclusive movement, we will have to build it, together with our allies. It's time to break our allegiance to the dominant corporate culture that's brought the planet to the brink of catastrophe. It's time to give back to the earth and support indigenous-led campaigns for environmental justice.
Creatively United for the Planet runs April 19-21 at St. Ann's Academy. Festival admission is free. Ticketed events include speakers, films, and a fashion show. I'm told the festival organizers will be welcomed by Songhees elder Joan Morris and traditional songs and dances by the Esquimalt Dancers. The counter-protest is not expected to go forward.