The feminist guide to taking over the world and enslaving the males (UPDATED)
When women speak out on sexism and male violence, we deal with the consequences. Men retaliate by stalking, harassing, and threatening us for the crime of being feminist (or just female) in public. The most common accusation from "men's-rights" reactionaries is that feminists have all the power in the world. We're the real haters, and we're stealing away men's rights and freedoms and everything they enjoy.

Confession time: IT'S TRUE.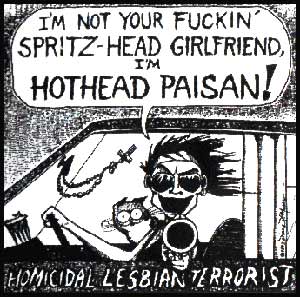 We know men are inferior, suitable only for slave labour, cannon fodder, and forced breeding. Our worldwide feminist domination plan has five secret weapons to keep them in their place and slap them down when they get uppity.
Secret Weapon #1. Name the behaviour. Whether it's misogyny, homophobia, racism, or ableism, calling it out will cause the target male's brain to explode.
According to male supremacists, a woman who publicly criticizes them is committing a human rights violation equivalent to being castrated and curb-stomped by a platoon of hairy-legged lesbians. The mildest insults fester for months. (We know this because they never shut up about it.) This tactic works with total strangers on Twitter just as well as close relatives and significant others. Such is the power of feminist words!
Secret Weapon #2: Use the web to block those cocks. If they email you, activate the spam filter. If they post rude notes on your page, delete and block them. If they overrun your favourite sites, kill-file them. If they threaten you, report them. The beta-males will howl that such brutal censorship is the worst jackbooted fascism since Hitler. They are right, of course. But this way we don't scuff the shine on our new jackboots.
Phone calls? Block 'em. Street harassment and stalking? Get your posse together. "Men's-rights activists" (MRAs) are cowards and they won't approach a group of women who are ready for them. The worst they're likely to do is shout from a safe distance and flee. Later they will cry on Facebook about being "gang-stalked." Enjoy the delicious irony and the sweet taste of their rage-tears.
Secret Weapon #3: Disengage. Withholding your support and approval is vicious and deliberate sabotage of the male ego. I have this straight from a former stalker, a non-profit director who believed I "owed" him my volunteer time after he hounded me out of his group and out of his life. When I informed his board of directors, the dude had a breakdown and resigned soon after. (Hey, I warned him.)
When angry dudes can't engage with you, the impotent rage builds up until they melt down in a messy pile of burning hate, while you go clubbing with your gal pals or jet off to Europe for the Secret Worldwide Matriarchal Domination Society's annual orgy.
Secret Weapon #4: Mock them. (This is the best part.)

Secret Weapon #5: Provoke them. For feminists, it's simple to provoke sexist jerks. Just existing will usually do it. But if openly walking around being awesome doesn't cause them to self-destruct and the above tactics don't apply, try these:
– dressing sexy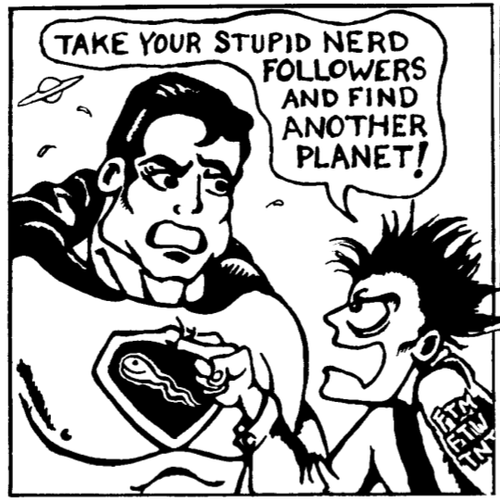 – not dressing sexy
– being feminine
– being unfeminine
– being a slut
– being celibate
– being progressive
– being conservative
– having personal boundaries
– getting on TV or radio
– blogging
– commenting online
Finally, ladies, remember: Organize. In your communities, with your neighbours, in your friendship networks. Don't let them silence you. Don't let them shame you. Push back. Operation Global Feminist Domination will topple the feeble patriarchal system that props up these impotent males!

UPDATE: We have a winner!
In case you thought I might be exaggerating about dudes who lose their shit when women speak out, let me present Libertarian dude Greg Hill, a "Young Entrepreneur" in Victoria, BC.
Hill is not opposed to free speech! HOWEVER, the affidavit he filed in BC Supreme Court says this very post you're reading right now is a hate crime against him as a white dude. I'm not even making this up.

Behold Hill's affidavit in the Supreme Court of British Columbia. (Click to view full-size.)


(Tracie Park is my legal name.)
MISSION ACCOMPLISHED.
—
Earlier encounters with the angry dudes of Victoria, Canada
The Judge Should Arrest Me for Calling this Dingbat a Racist
—
With thanks to A.D Song and Mia McKenzie of Black Girl Dangerous for their inspirational essay How to Be A "Reverse-Racist".