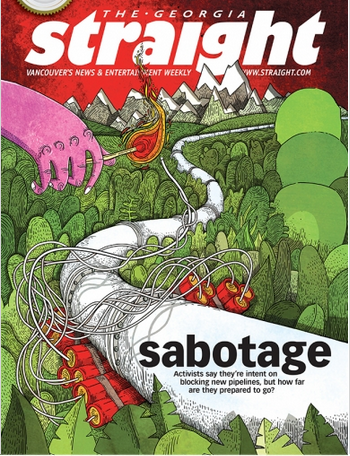 Thirty years ago, Paul Watson and a handful of tree-huggers spiked hundreds of trees on Grouse Mountain, just north of Vancouver.
Twenty years ago, Watson and others spiked 20,000 trees in Clayoquot Sound. Arsonists destroyed two logging-road bridges.
Fourteen years ago near Whistler, unknown "elves" wrecked machinery and spiked hundreds of trees in an active logging area along the Elaho River.
This is the story of the Elaho Valley, summer 2000 – the summer of sabotage.
Six months after this broadcast, the logging company that was trying to clearcut the Elaho Valley gave up and left. Now this cathedral forest is protected as a Wild Spirit Place by the Squamish First Nation.
More about the Elaho Valley campaign.
CREDITS: Zoe Blunt (spoken word) Die Anarchistische Abendunterhaltung (music). Produced by Green Monkey Radio and Coop Radio, CFRO 102.7 FM, Vancouver BC, August 15 2000.