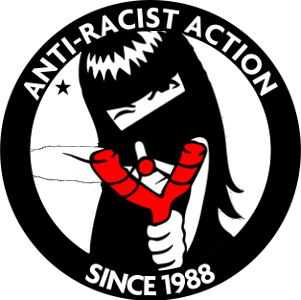 And the feeling is mutual!

This week, a neo-Nazi group, United Front Canada, is publicly calling for new members to start chapters in Victoria BC, as well as Vancouver, Edmonton, Calgary, Winnipeg, and Toronto.
And I'm here to get in the way. So Anti White Watch, a white supremacist blog, labels me "leader of the anti white gang Anti Racist Action," "dyke," "tranny" and more hilarious insults. In other words, these are literally some of the worst people in the world.
The good news is the author advertises our Anti Racist Action group.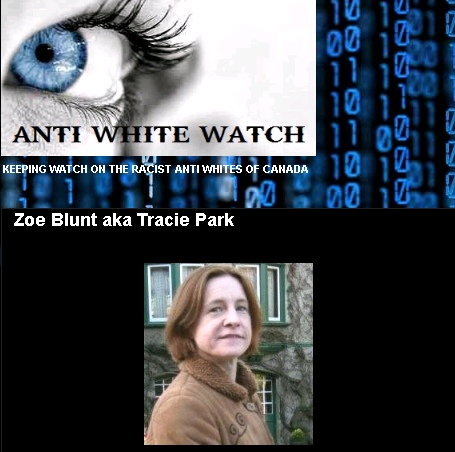 Nice photo! (I won't be returning the favour and linking to their page though, because racist blogs have cyber-cooties.)
This is the first time in Victoria I've run across actual neo-Nazis, as opposed to run-of-the-mill white supremacists and racists. United Front's platform is based on Hitler's Third Reich, right down to the swastika-style cross. It's a modern-day throwback to the National Socialist Party of 1930s Germany. So it's a neo-Nazi fringe group. (I'm using the word "group" loosely. It's a safe bet these two websites are run by one miserable white dude in a suburban basement.)
White supremacy is a broader and more pervasive philosophy. The Wiki says:
White supremacy is the belief of, and/or promotion of the belief, that white people are superior to people of other racial backgrounds and that therefore whites should politically dominate non-whites. The term is also used to describe a political ideology that perpetuates and maintains the social, political, historical and/or industrial dominance of whites.[1] Different forms of white supremacy have different conceptions of who is considered white, and different white supremacist identify various groups as their primary enemy.[2]

The term white supremacy is used in academic studies of racial power to denote a system of structural racism which privileges white people over others, regardless of the presence or absence of racial hatred. Legal scholar Frances Lee Ansley explains this definition as follows:

By "white supremacy" I do not mean to allude only to the self-conscious racism of white supremacist hate groups. I refer instead to a political, economic and cultural system in which whites overwhelmingly control power and material resources, conscious and unconscious ideas of white superiority and entitlement are widespread, and relations of white dominance and non-white subordination are daily reenacted across a broad array of institutions and social settings.[8][9]

The term expresses historic continuities between a pre-Civil Rights era of open white supremacism and the current racial power structure of the United States. It also expresses the visceral impact of structural racism through "provocative and brutal" language that characterizes racism as "nefarious, global, systemic, and constant."[14] Academic users of this term sometimes prefer it to racism because it allows for a disconnection between racist feelings and white racial advantage or privilege.[15][16]
Manypolitics does a brilliant job of illustrating the distinctions with real-life examples in "An Open Letter to WAC Victoria and Others Who Equate Racism with Prejudice."
And now, please enjoy some old-school anti-Nazi moves.
Earlier encounters with angry racists in Victoria: