Tue, 27 Nov 2007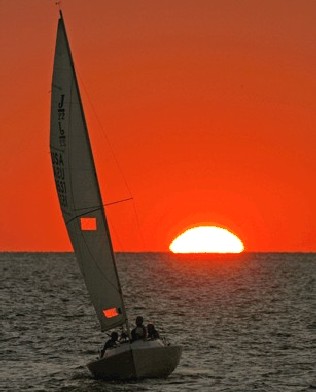 Last Thursday night, right after Thanksgiving dinner, my father poured a glass of wine for his wife Karen and gave her a kiss. Then he went out, as he often did, to sit on the pier and enjoy the city lights reflecting on the ocean.
Friday morning, after looking all over the house for him, Karen found my father in the garage, hanging by his neck from the rafters.
He did not leave a note. The family is in shock. They can't understand why a healthy, fit man who had everything would commit suicide.
At age 63, my father spent the better part of his days on his sailboat, tooling around the harbor, racing other sailors, and coaching disabled kids. He had a comfortable retirement income while his much younger wife worked part-time. They were happy.
Dad was famous — briefly and locally — thirty years ago as an Olympic athlete. In the past decade, he won the world sailing championship in his class for three years running. He was applauded for his volunteer service at the local yacht club. His friends and colleagues remember him as a pillar of the community, a champion, and a highly intelligent, educated man who didn't mind hanging out with the common people.
Family secrets
I remember my father as a cruel and emotionally disturbed man who dealt out pain and punishment to his wife and children whenever it suited him. He started with me before I was old enough to talk. When I was seven years old, I made a sassy remark and he knocked me down, grabbed me by the hair and pounded my head against the floor until I passed out. It wasn't the first time he beat me unconscious, nor was it the last.
We never discussed the beatings. Not even when I had a breakdown and tried to commit suicide at age 12. Or when I tried again at age 14. That year, he tried to smack me around one more time. I finally fought back and delivered one hard and fast punch to his solar plexus that doubled him over. That was when my parents decided to hand over custody to the authorities, who determined I would serve an indefinite sentence in a mental hospital.
My parents agreed with the juvenile court that I was delusional, a pathological liar, violent, immoral and incorrigible. That meant everyone could comfortably ignore my accusations of abuse and neglect, and when I raised the issue with counsellors and court workers, they took my statements as more evidence of my illness. Of course, this was the 1970's, when child abuse was not often recognized as a serious or widespread problem.
I spent my teenage years in a locked ward at a mental institution, while my parents carried on with their lives as respected members of the community, coping bravely with the burden of a sick and demented child.
Multi-generational trauma
Of all those who knew him, I may be the only one who is not surprised at my father's suicide. The family's deepest secret is the death of my paternal grandmother when my dad was in his twenties. She was depressed and drinking heavily, and one day my grandfather packed his bags and told her he was leaving her. Soon after, she swallowed a bottle of prescription pain killers and washed them down with a bottle of wine.
When I finally understood the mystery of my grandmother's death, it struck me that my father might take his life the same way. He, too, was an alcoholic who suffered from depression. Fifteen years ago, in a rare moment of candor, he told me he was tormented by guilt about the way he treated my sister, my mother, and I. Then he changed the subject. It was the second to last time I saw him, and he never mentioned it again.
My father's drinking habits didn't raise many eyebrows down in Florida. Every day, he would crack open his first beer before noon and drink steadily until he stumbled into bed at midnight. But there was nothing unusual about that. Sailors love their grog, and the yacht club was known for its weekly keg parties and prodigious boozing.
The last time I saw my father was September 15, 1999. He picked me up in Vancouver and we drove up to Whistler. We sat on the patio in the late summer sun, ordered burgers and beers and talked about nothing. He stared in puzzlement at the massive hotels, construction crews, traffic jams, raw earth and fresh asphalt, trying to reconcile this scene with his memories of a rustic little village tucked away in the wilderness. The pub's speakers pumped out Welcome to the Boomtown.
I made my peace with my dad years ago. After the visit to Whistler, he sent me a couple letters, but we never spoke again. With the help of a trauma counsellor, I was able to work through the pain of my childhood and the grief of my father's rejection.
I spent this past weekend trying to comfort his wife, my mother and my sister. I told them no one could have known what he was planning, since we can't read minds or predict the future. Even if we could, who has the power to fix someone who is broken?